DisplayBuddy started out as a handy tool I made for myself to control the brightness of my monitors for my newly built work-from-home setup. I didn't even know monitors could be controlled without touching their clunky buttons, so the app almost felt like magic.
Since then, I've released a ton of updates (44, but who's counting) to DisplayBuddy with new capabilities like adding support for brightness keys, syncing brightness across displays, adding support for M1 (and then M2) Macs, as well as controls like display resolution and rotation.
With thousands of happy users and a robust suite of features, DisplayBuddy has become the go-to app for Mac monitor users. Today, I'm thrilled to introduce the next generation: DisplayBuddy 2 for Mac.
DisplayBuddy 2
DisplayBuddy 2 is a massive redesign of DisplayBuddy built from the ground up that feels right at home on modern macOS.
The new app feels deliberately similar to the Control Center in macOS, so it feels instantly familiar. A crisp translucent background adapts nicely to your Mac's background, and looks stunning in both light and dark modes.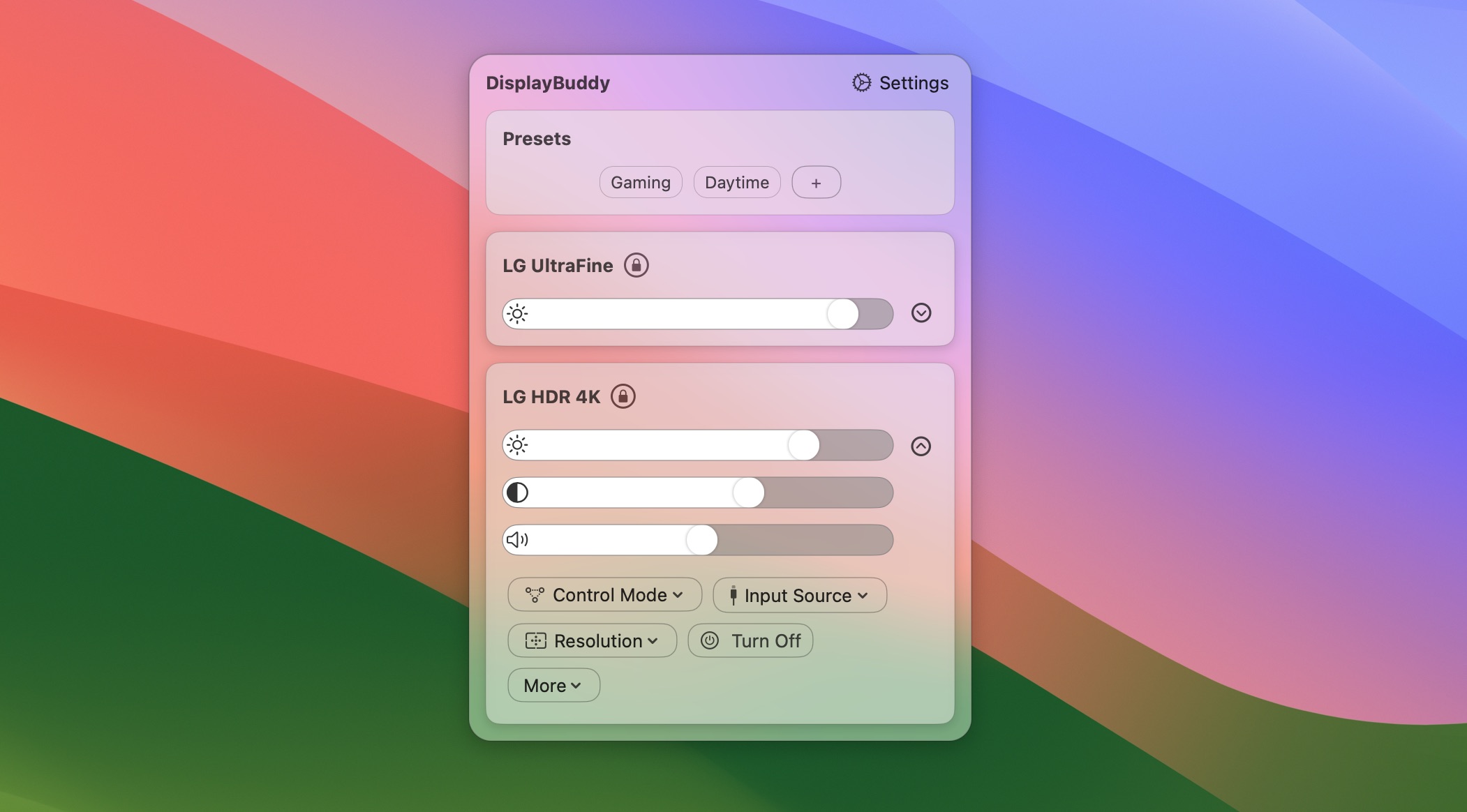 Each display gets its own little space and the controls are nicely tucked away till you need them. You can expand to show more sliders for your monitors, and advanced controls like input source and power off are just a single click away. Beautiful little icons respond to your clicks while making it easier to find the controls you're looking for.
Presets - which lets you save settings across multiple monitors and restore them later with a single click are now front and center, and are easier to create as well as use.
Sync - another loved feature of DisplayBuddy - also has a refreshed interface that easily lets you select which display should be followed by others, also displaying helpful labels when needed most.
Of course, there's a lot more improvements under the hood - with new features like the highly requested Mute button support, selecting HiDPI resolutions, better keyboard handling, and much more to make the app smoother and faster.
What excites me the most is that the new app forms the foundation of the next wave of features on the Mac - a complete overhaul to Presets (like adding input source, rotation and resolution), improved troubleshooting within the app, and a few pleasant surprises along the way.
DisplayBuddy 2.0 has been almost 7 months hard work and refinement, and we've actually grown not just as a product, but as a team as well - working with our head down to bring you the best app for using displays with your Mac.

Pricing
DisplayBuddy is a still a one-time purchase, and will continue to get all updates for FREE including this one (2.0) and we're committed to bring you the next 10 updates to DisplayBuddy to make it even better for you.

Press Kit
The full press kit for the new release can be found here on ImpressKit.
If you'd like to review DisplayBuddy, I would be happy to send you a license. Please fill up this form or just email me directly. You can also directly DM on Twitter (err.. X) if you prefer.